Oh my gosh, I'm so excited! My first blog hop since getting back from vacation!  Welcome to my blog, and I hope you look around and follow my blog if you like what you see!  Remember to leave a comment and link to your blog so I can follow back!
I have some awesome things coming to my blog soon, so you'll probably want to stick around!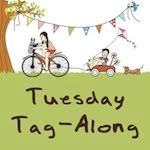 Also, don't forget to enter my $100 Avelle Gift Card Giveaway!  It ends on Friday, has low entries, and there are plenty of ways to enter!  Also, 2 winners!