Okay, I wasn't going to partake in any more link-ups or blog hops, but....they're so much fun! And since the Social Parade is starting early, I can't resist!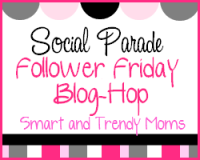 **NOTE**
my blog is undergoing some changes--I'm giving it a makeover. So if things look weird, that's why. But everything will be in order soon!
Please leave a link to your blog if you want me to consider following! I won't follow every blog, but I'll follow anything that is interesting to my geeky eyes!